Robert Mammone
Some very exciting news.  Candy Jar Books publish a very strong range of novels and short stories based on the characters surrounding Alistair Gordon Lethbridge Stewart, one of the fan favourites of the Doctor Who tv series.
Recently, the editor of the line accepted a story line proposal I made to him.  That story, Eve of the Fomorians, will see publication in time for Halloween.  Press release is as follows:
Candy Jar Books have announced their latest e-book in the Lethbridge-Stewart range for Halloween, free to anybody pre-ordering the next main book in the range, Times Squared: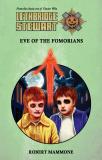 Eve of the FomoriansWritten by Robert MammoneCover by Paul Cooke
All Hallows' Eve, 1969. En route back to Edinburgh, Anne Travers, William Bishop and Samson Ware come across a deserted village in the Scottish countryside. A village that is rotten to the core.
Range Editor Andy Frankham-Allen, says:
I…
View original post 400 more words